by Michelle Moore, Nurse and mother of two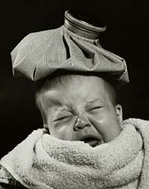 When a child gets sick overseas…
My husband and I traveled 14 hours from California to Germany, and were DELIGHTED when our room was equipped with black-out drapes so we could all adjust to the new time zone. We were equally delighted when our 2 year old slept the first 14 hours we were there…until we had to wake her up (as new parents, it was a strict and holy rule NEVER to wake a sleeping baby).
While we thought we co-created the world's perfect traveling baby ("What great adaptation she has to a new time zone!" followed by, "Great job on the flexible circadian rhythms!"), we quickly realized she was exhibiting behavior more indicative of a viral infection. The thermometer confirmed a high temperature. Fortunately, I'd brought Tylenol from home and began administering the routine dosages.
You "danke" there's a CVS around here?
No. Prior to your trip, pack various non-prescription remedies for your child as European pharmacies are far more expensive than American ones, and medicines in Germany are among the most expensive in Europe. And don't scan the city streets for any familiar symbols: A large red pharmacy-looking sign would be the destination for filling a "Rezept" (prescription) from a doctor in Germany. This service is not likely to be combined within a general drugstore, which is advertised by a neon green plus sign. Knowing what a pharmacy might look like prior to your travel will save you a few brain cells in the sanity department.
When you know a trip to the doctor's office is inevitable, your best bet is a trip to the front desk of your hotel. Our friendly concierge, Phillip, was able to call the pediatrician's office down the street, and we were seen just fifteen minutes after we left our hotel room – yes…fifteen minutes! His local knowledge and hometown ties were indispensable in getting the appropriate medical care for our daughter.
When you "bitte" stay in your hotel, versus when it's OK to sightsee…
If you tend to get a bit compulsive in the "mandatory fun" department, you have undoubtedly learned rigorous activity planning goes out the window when it comes to life on Planet Parent. So be prepared to be malleable. Sightseeing and exhaustive visits to the museums and cathedrals will likely take a back seat to sanity-saving trips to the park. If your child has a low grade fever, is not contagious and not vomiting, it's probably OK to soldier them on. However, keep the itinerary light: on our first day out with our daughter once she was on the mend included a half day at the Haufbrau House, where we offered her endless pretzels, gingerbread cookies, and plenty of "polka princess-ing" in front of the bandstand. Next, we drove a few hours while she watched her various princess DVD's and my husband and I took turns touring another site, while she napped in the car.
Just to recap, here are some tips for sickness-preparedness:
1. Begin in the bathroom when packing for your trip. What are the first medications you reach for when your child gets a fever, has a boo-boo, or a tummy ache? What do you normally administer to your child prior to calling your pediatrician?
2. Check that the dosing on the labels are legible, and that the dates have not expired.
3. Pack a thermometer, alcohol wipes, and any prescription meds your child might need.
4. Google pharmacies at your destination prior to your trip to see what signage they employ.
5. NEVER pack prescription medication in your checked baggage!
6. Make sure the things you need most frequently are easily accessible, preferably in an outside pocket of your carry-on bag.
7. Introduce and endear yourself to the front desk and concierge staff upon arrival at your destination.
8. Inquire about concierge and front desk hours, specifically who could be contacted during the night should the desk not be staffed. As a seasoned parent, you already know that children's illnesses prefer to debut somewhere in the neighborhood of 2 AM!
9. Be sure to keep your child on whatever vitamin / nutritional supplement program he follows at home.
With just a bit of foresight and planning, you can minimize the stress of being away from home with a sick baby.