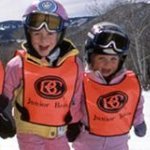 As sacrilegious as it may sound to die-hard Disney fans, there is a place on this planet that is even more worthy of creating lasting family memories than Disney.   This magical place is Beaver Creek, CO. Whether your pleasure is tubing, skiing, skating, roasting marshmallows or eating chocolate chip cookies, Beaver Creek will find a special place in your family's heart.
You'll find great deals on private rentals through VRBO.com.  Before you get sticker shock, consider the fact that many owners are willing to negotiate.  Determine what you are willing to spend and make and offer on several condos you like.  You might be surprised at what you find!
In November, we rented a condo at St. James Place.  A happy romp from the hotel lobby, down a quick flight of steps landed us directly in front of Blue Moose Pizza, the most famous family-friendly restaurant in Beaver Creek.  Just beyond the Blue Moose is the skating rink, which is the heart of Beaver Creek Village.
Thanksgiving is a fabulous time to visit Beaver Creek.  There are often great deals on lodging, dining and lift tickets.   Beaver Creek is also gearing up for the start of the ski season, so there are lots of fun and festive events to keep everyone entertained.
Our week's schedule included a Warren Miller ski movie at the Villar Center, watching the Christmas Tree Lighting Ceremony in the plaza, sampling cookies at Beaver Creek's famous chocolate chip cookie-tasting competition, viewing a huge display of gingerbread houses, ogling over fireworks from the balcony of our condo, great dinners in the family-friendly Ritz Carlton lounge followed by marshmallow roasting in the Ritz fire pit, and of course, daily ski school for the kids!
Beaver Creek Ski School is the best in the world.  Little tykes spend their first moments on skis in a safe, fun environment with supportive, enthusiastic instructors.  They will also enjoy face painting, crafts, snacks and a relatively healthy, kid-friendly lunch with their new friends.
Older children ride the fully enclosed Buckaroo gondola specifically built to service the beginner runs.   The top of the gondola is home to The Ranch, a kids-only restaurant.  As their skills progress, your kids will have the chance to go further up the mountain to visit the Bear Cave, Prospector's Peak, and learn more about the history and ecology of Beaver Creek.
Every ski day ends with a fleet of chefs distributing huge platters of warm, fresh-baked chocolate chip cookies to kids and adults alike.   And these aren't just any cookies.  They are the prize-winning recipe from the annual Beaver Creek cookie baking competition.
To further the fall into decadence, we have a family tradition of visiting Rimini's at the bottom of the escalator.  They serve crepes, gelato, and the heavens-honest-truth BEST hot cocoa I've tasted in my entire life.
Since staying in downtown Beaver Creek can put a strain on  even the most prolific bank account, there are other lodging options that allow you to benefit from the superior services of Beaver Creek without the price tag of Village lodging.
Beaver Creek has a great transportation system, providing easy access to the Village from Bachelor's Gulch and Arrowhead.  Consider renting a condo at the Beaver Creek Landings, located at the base of Beaver Creek mountain or an off-season rental in Arrowhead.  There are lots of other options if you opt to rent a car, which is often preferable to toting tots on the public transport system.
Be sure to call ahead for ski school package deals.  A little research on Beaver Creek's website www.BeaverCreek.com, will provide endless possibilities for entertaining and pampering both children and adults.
It's easy to see why Beaver Creek's motto is "Not Exactly Roughing It"!