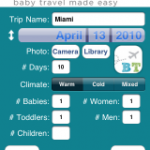 BabyTravel.com Launches iPhone AppWords cannot possibly DESCRIBE how excited I am to introduce you to this app. A big shout-out to my husband, John, for encouraging me to design an iPhone app and to Scott Holliday, the lead app developer at Jacobs Media. I also want to thank family, friends, Facebook fans and Twitter followers who have been spreading the word via Facebook and Twitter. Here's a copy our latest press release!
Boyne City, Mich. (April 22, 2010) – BabyTravel.com announces the release of a new iPhone app specifically designed to meet the needs of traveling parents.
The primary feature of the Baby Travel iPhone app is its customizable packing list. The user indicates the number of days they will be traveling, type of weather they will likely encounter and provides number of babies, toddlers, children, women and men who will be traveling. The app then generates a customizable packing list with everything they need for their trip.
The Baby Travel iPhone app also offers "Helpful Sounds" such as ambient noise channels to help baby get to sleep and silly sounds to distract a fussy child. The app even provides a direct link to the USPS website to put mail on hold.
Most importantly, BabyTravel is unique in the world of iPhone apps because there is a COMPANY behind the app. Baby Travel interacts with and engages the user by offering an RSS feed link to the Baby Travel Blog and a direct link to the BabyTravel.com website.
Parents are invited to join "Toddler of the Week" contests where they can submit a travel photo of their child and become eligible for prizes.
Traveling parents can use the blog and website links to locate airport play areas in every major US hub. They can also get tips and tricks for keeping kids entertained on the airplane or in the car. A technology post even points parents to other iPhone apps specifically designed to keep little travelers entertained.
Christy Rounds, founder of BabyTravel.com says, "Baby Travel is authentic because the content was created by traveling parents, not app developers. Our app recognizes the challenges and meets the needs of families traveling with young children."
To learn more about the Baby Travel iPhone app, go to BabyTravel.com or view Baby Travel in the iTunes store.
About Baby Travel:
BabyTravel.com prepares the adventurous-spirited parent for fulfilling travel experiences with their children. BabyTravel.com accomplishes this by providing timely, accurate, useful travel information and advice on the purchase of superior family travel gear.