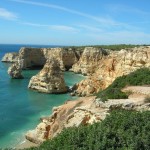 Many of my posts are written from the perspective of a US citizen. But after spending a couple weeks with British friends who were staying in our guest house with their 18 month old baby, I realized that we need to provide more posts for our friends over the pond.
With that in mind, let me introduce… Algarve, Portugal. For most Europeans, it's hardly an introduction. Pristine sandy beaches, sunny Mediterranean climate, safety and relative low cost make Algarve the most popular vacation destination in Portugal. In fact, Algarve welcomes 9 million foreign visitors every year!
For those traveling to this tropical paradise with a baby, you'll want to become acquainted with Tina's Holiday Extras. Tinas provides baby equipment rental and grocery delivery services, specializing in all things related to traveling with a baby. Tinas even provides vegetarian packs.
As always, simplification is the key to success when traveling with baby in tow. Tina's Holiday Extras takes care of the details, freeing you to relax and enjoy your vacation.